by Michael Maiello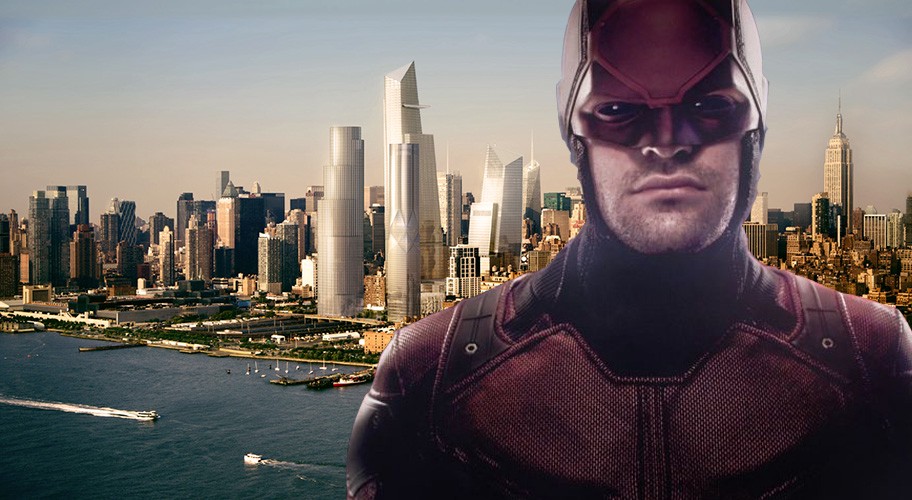 Netflix Presents: Marvel's Daredevil of Hell's Kitchen follows the journey of attorney Matt Murdock, who, in an improbable boyhood accident, was blinded by toxic waste and imbued with extraordinary senses. Murdock sets up practice in Manhattan Hell's Kitchen, once a pit of crime and despair, but now among the toniest neighborhoods in the safest city in America, replete with cultural attractions, nightlife, vibrant streets, and abundant free Wi-Fi. As an attorney, Murdock struggles to build a practice that will finance a two-bedroom two-bathroom apartment in a pre-war building that was a "real bargain" at just under a million dollars. As the crime-fighter Daredevil, he struggles to find something to do.
Episode 1: A Room of One's Own
When Murdock finds out that criminal real estate developer Wilson Fisk is illegally running an Airbnb out of a rent-controlled apartment on 48th street, Daredevil uses his freakish martial arts skills to force a pair of European tourists out of the building and into legitimate accommodations at The Standard in the Meatpacking District.
Episode 2: Sunday, Bloody Brunch Day
While at all-you-can-drink brunch at the Film Centre Café, Daredevil's heightened senses alert him that the pitchers of Bloody Marys being brought to the table utilize a cheap well vodka that will give Foggy, Karen, and him headaches before 3 p.m.
Episode 3: The Blind Leading…
Tourists ask Murdock for directions to the M & M store.
Episode 4: The Gates of Hell
Daredevil busts an unscrupulous apartment broker trying to claim that Hell's Kitchen extends all the way to 6th Avenue, which is past Broadway. It doesn't; 8th Avenue is its eastern boundary. The broker is beaten savagely. Commenters on Curbed are wildly enthusiastic.
Episode 5: The Break-In
A series of apartment break-ins sets Daredevil on the hunt for the burglar who accidentally snapped a selfie with one of victim's iPhones, sending the photo directly into her iCloud account.
Episode 6: Out of the Kitchen, Into the…
Murdock visits the the Time Warner Center while wearing his new Warby Parker glasses to stop tourists from being robbed by the Art of Shaving's incredibly overpriced men's grooming products.
Episode 7: Two Men, Two Rings
Blind lawyer Murdock attends a same-sex wedding. No big deal, it is 2015 and this is like his third time at one.
Episode 8: Under These Stars
At the Hudson River Piers, Murdock plunges into the depths of night where his hyper-acute hearing helps him enjoy a jazz concert under the stars. The beer selection is limited and expensive and they won't let you bring in your own even though the piers are now a public park. But the music is good.
Episode 9: Devil on Two Wheels
With the aid of his partner Foggy Nelson, Murdock signs up for a year-long Citi Bike membersh爱上海新龙凤419论坛ip. They then ride along the Hudson River towards Battery Park City where Daredevil uses his battle staves to force joggers and strollers out of the bike path.
Episode 10: The Devil in Moonlight
After busting an UberX driver for turning down a ride request from a blind passenger, his former master Stick, Daredevil, upset that the 7 subway line extension has been delayed yet again, eats his sorrows at the Gotham West Side Market.
Episode 11: Where?house
In a cavernous warehouse on the west side that is set to be demolished to make way for a new floating park funded by ex-mayor and staunch Fisk ally Michael Bloomberg, Daredevil's plans to host an after-hours arts and crafts night market are thwarted by the corrupt NYPD, who show up demanding the proper permits from the City Parks Department.
Episode 12: Beware This Blog
Crime reporter Ben Urich is out of a job when The Daily Bugle is sold to Comcast for one dollar. He starts a blog. A blog about Daredevil. Nobody reads it. Blogs are dead.
Episode 13: The Buyout
Murdock learns that his pre-war building is about to be demolished and turned into luxury condos. As a small-time lawyer, he qualifies for one of the planned affordable housing units in the building, but he loses the lottery to a photographer who was recently been bitten by a radioactive spider on city property. He heads west to defend the residents of a new neighborhood in a new city, "the Hobe."