Artists, engineers and environmentalists are bringing mobile, self-sufficient living units to the parklands of New York City this weekend. It's all a part of "The Flock House Project," an exploration of alternative systems for living organized by artist Mary Mattingly. Now through September, the project is installing four new "Houses," all inhabited by project volunteers, that will migrate from Flushing Meadows to Battery Park to Van Cortlandt Park with a few stops on the way.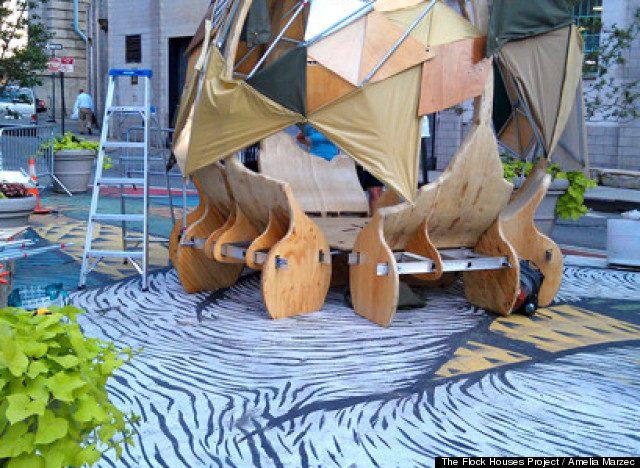 The units are built collaboratively using reclaimed and redesigned materials. The environmentally-friendly artists and engineers who serve as the architects and residents of the homes utilize rainwater capture methods, inner-city agricultural techniques, and solar energy technologies to create the mobile living centers. The shape and aesthetic of the units take into consideration the necessities of migration and pilgrimage, so that the walls and contents of the homes can function as transportable spaces. The resulting structures look like like angular, patchwork eggs equipped with gardens and interiorly decorated with hammock beds and a few personal items.
The project was initiated in Brooklyn in 2010 and has since set up shop in urban centers across the country seeking to enhance community-interdependence, resourcefulness, and creative exploration through the installation of these mobile habitats. The spaces were inspired by the current phenomenon of global human migration and the pressing need for urban communities to addre上海419爱上海同城
Related Articles
by guest blogger Maya K. van Rossum, the Delaware Riverkeeper
Before our nation was aware of the hazards of fracking and shale gas development, the drilling industry was working quietly behind the scenes with Vice President Dick Cheney and others to craft a series of loopholes and pass the Energy Policy Act of 2005. The law would help the industry evade the oversight of U.S. federal environmental protection laws. The same kind of behind-the-scenes negotiations are happening today, only this time the focus is on undermining U.S. laws as well as those of 12 other nations–and this time we have a chance to stop them.
The gas drillers are hard at work behind the scenes crafting new protections for themselves, as are other major corporate interests. And when all is said and done, if we let them, bans on fracking, made in America labels, and protections against the importation of contaminated foods or products made abroad in violation of child labor laws are among the many protections and rights our communities and country now have that will fall to industry's demands.
What body of enforceable law could so solidly strip our communities from these vital protections? A new trade agreement called the Trans-Pacific Partnership (TPP) Agreement is being negotiated in secret between the U.S. and 12 nations from the Pacific Rim, including Australia, Brunei, Canada, Chile, Japan, Malaysia, Mexico, New Zealand, Peru, Singapore, and Vietnam. While China is not currently a party to this secret deal making, it's believed it will eventually join these and other countries in becoming a part of the pact.
The deal is so secret that not only is the public prohibited from reading its terms, but so too are the members of Congress. Thankfully, there have been some leaks to give us a glimpse behind the curtain (for instance, WikiLeaks secured and released the Intellectual Property Rights Chapter). It's reported that there are 29 chapters to this supposed trade agreement, many of which have nothing to do with regulating trade, but instead focus on limiting environmental, food safety, health, and other community protections. Overall, there's enough information available to know that the Trans-Pacific Partnership Trade Agreement (TPP) is a bad deal for the people of the United States and should be rejected by Congress when legislators finally have a chance to give it an up or down vote.
TPP is certain to include an Investor-State Dispute Resolution provision that will allow corporate entities and investors to bring claims for significant monetary payouts against any signatory nation they feel has interfered with their corporate/investor benefits under the treaty. That includes the U.S. So if there is a law that prevents a corporation from pursuing a toxic waste facility, dangerous development, water- and cyanide-intensive mining, or a fracking and drilling project, under the TPP that corporation/investor could bring a claim against the signatory nation before an international arbitration tribunal and have millions of dollars in damages leveled against it (for specific stories, go to: http://www.citizen.org/documents/fact-sheet-tpp-and-environment.pdf). Not only does this pose an unfair burden on a country whose government is trying to protect its residents, but it will also motivate that country to go after any state or municipality impeding the corporate project and force it to revoke its environmentally protective laws or regulations.
For instance, if a legally passed ban on fracking and shale gas development prevents a foreign corporation or investor from drilling in a New York community, that corporation can bring an Investor-State Dispute action against the United States and receive millions in damages, with the federal government likely to then bring a legal action against the New York community and force it to remove its protective ban.
This is happening already. Under another trade agreement with a similar provision, the North American Free Trade Agreement (NAFTA), a privat上海千花网

Here is a line of thought that will be paralyzing for anyone who puts text into boxes for fun or profit! Imagine someone watching you type:
In November, Somers, a developer for Genius, released an app called Draftback.1 It's a fascinating experiment that treats writing like data. After years of trying to build a program, Somers realized that Google Docs was already saving every keystroke we enter. So he hacked Google Docs to play documents back to their authors, materializing on the screen with every stutter-step inherent to the writing process. In its latest form, Draftback is a Google Chrome extension that can reach deep into the archives of any Google Doc you have editing rights to, make sense of all that writing and rewriting you innocuously poured into it, and beam it right back to you, backspaces and all. It doesn't matter if your document was created before or after you installed Draftback — the keystrokes have been buried the whole time. Draftback can unearth any fossil.
Draftback as it exists now is about reconstruction. It gives you insight into your own "process," if you're comfortable referring to such a thing, but aspires to go further:
Somers wants to use Draftback to peek over somebody's shoulder — ideally somebody really good. His personal goal is to get A.O. Scott, the Pulitzer Prize-winning film critic for The New York Times, to write a review or essay in Draftback. "He's a beautiful prose stylist (diction, cadence, etc.), his writing is accessible and unpretentious but world-class, and he seems to always put his finger on the essence of whatever it is he's talking about." Somers is curious about whether all that comes naturally to Scott.
The concept eventually extends to the "ability to annotate decisions" — that is, to provide written justification or context for moments in the editing replay. This starts to sound fairly silly before you even get that far, but if you're feeling generous you can follow along: Anyone who uses a computer or phone on a regular basis lives somewhere on the spectrum of text voyeurism, right? Messages have read receipts, posts have timestamps. People tweet as they write and write as they tweet, and it all mingles together if not seamlessly at least noticeably. Sure!
What makes this particular process feel wrong — and to some extent, what makes the (separate but related!) project of Genius feel conceptually… off? — is its application to intentional texts. Anything valuable you might learn from rewinding and watching A.O. Scott's editing process would owe to his ignorance that someone might ever be watching. A knowingly performed writing and editing process would not be very interesting at all — the real evidence of effort and error would just move elsewhere, further out of sight. The editing product would become like the finished product, and so there would be no sense of voyeurism. Writers who intend to write in a particular form would either reject the new one or manipulate it to become more like the one they want. Requiring A.O. Scott to write about film with the knowledge that his process would be completely transparent would really be requiring him to write about writing, which is fine but undermines the whole project, right? It's no longer peeking and stealing, it's listening and taking notes.

The magic middle ground — the one we're all familiar with through slightly less intentional texts — is the suggestion of voyeurism. That little iMessage animation suggests a glimpse behind the curtain — and sort of offers one, as you watch your texting partner type and then stop typing and then start again — but never lets you all the way in. It might animate then disappear forever, which could mean many different things. It might animate for a while, then pause, and animate briefly before making way for a terse "sure." This is both performed and received as a performance, and alters the way in which people text. But it doesn't destroy the medium or paralyze its participants. The process of creation is public but obscured. The text feels alive and urgent! Etc. An app to replay writing in not-quite real time, but instead in chunks, might be interesting.
ANYWAY, a loose prediction: This blind gap is the area from which a big part of the next internet will sprout, grow, then overgrow. Pulling down to refresh to get more and more and more is getting tiring — it feels increasingly like a passive process made unnecessarily active. The nonspecific "someone is typing" throbber, or something conceptually similar, could be the internet's version of the chyron that never stops rolling in from the side of the screen, the 24-hour anchors that are always about to say another word. Imagine a breaking news app with a suggestive little animation at the top assuring you that something new is coming right away. 上海楼凤 419Imagine Twitter with something similar! "SO AND SO IS TYPING A TWEET," etc.
This is, I think, our next interface with the horrible endless feeds. It will be terrible! But we won't be able to help ourselves.

By: Douglas Main, Life's Little Mysteries Contributor
Published: 12/25/2012 09:32 AM EST on LiveScience
You've probably heard that Frankincense was one of the three gifts brought to the baby Jesus by the three wise men, according to The Gospel of Matthew. But what the heck is it?
Frankincense is the dried sap of trees in the Boswellia genus, particularly Boswellia sacra. These trees grow in Oman, Yemen and the Horn of Africa, including Somalia and Ethiopia. When dried, the sap is burned as incense and thought to have several medicinal properties. Frankincense producers wound the tree using a traditional chisel-like tool, after which a milky white sap leeches out of the hole, forming "tears." The first sap is not collected, and is thought to cleanse the wood of impurities, according to an Omani tour guide interviewed by the BBC. Once this dries, the hole is enlarged and deepened, after which sap comes out, dries, and is collected about two weeks later.  
The right stuff
This tapping process is repeated several times at several points throughout the year, depending upon the region. After the stonelike gobs are gathered, they are put out to dry. The highest quality frankincense is silvery and clear, or with a slight green tinge. Brown-yellow frankincense is the most readily available and the cheapest type. In Oman, the best stuff is reserved for the sultan, Qaboos bin Said Al Said, and is hard to get outside the country, according to Slate.
The frankincense-producing lands in Oman are perhaps the best known and most ancient source of the material. It's been traded there for thousands of years, and shipped on boats to the Mediterranean, India and China. The Romans wanted to get into this trade, the BBC reported, sending 10,000 troops to the area in the first century B.C. to conquer and control the commodity's production. But the Romans never got there, driven back by the heat and aridity of the desert. Even today, it takes 11 hours to drive from Oman's capital of Muscat into the cooler, coastal hills in the country's south where B. sacra flourishes. [5 Surprising Facts About Christmas]
According to Businessweek, the frankincense trade became the most lucrative in the world from 1000 B.C. through A.D. 400. For a time, it made southern Arabia the richest place on Earth, Businessweek reports. Herodotus wrote of the frankincense produced in this region, but warned that the trees were guarded by flying serpents.
Woodsy and fruity
Frankincense has a lemony, musky odor. As Jackie Spinner put it in her Slate piece, "I asked a dozen Omanis to tell me straight-up if they liked the smell, which is both woodsy and fruity, and ancient, which can describe a lot of smells, including my grandmother snapping Juicy Fruit gum in front of a campfire. … Every Omani I pressed professed a great love for the smell." It is burned at Roman Catholic Masses and used in Arabic wedding and birth ceremonies. Asked why it was given to the baby Jesus, one Omani man told Spinner it was given "to ward off evil spirits and snakes." (One wonders about the tolerance of the serpents that allegedly haunted southern Oman's Boswellia groves.)
Frankincense was once much more valuable and sought after, partially due to its supposed health benefits. But modern studies have revived an interest in the material. Some studies suggest Frankincense may have anti-cancer and anti-inflammatory properties.
Unfortunately, Boswellia trees are in decline, due in part to over-tapping of trees to meet increased demand, as well as climate change. One study estimated the number of Boswellia trees could decline by 90 percent in the next 50 years. Another study, published recently in the journal Annals of Botany, hopes to correct that. It's the first time researchers have examined the tree's sap-secreting system, according to study authors, with results suggesting a maximum of nine tapping spots per tree. Due to high demand, up to 27 tapping spots are made per tree in some commercial sites in Ethiopia, according to the study.
This story was provided by Life's Little Mysteries, a sister site to LiveScience. Reach Douglas Main at dmain@techmedianetwork.com. Follow him on Twitter @Douglas_Main. Follow Life's Little Mysteries on Twitter @llmyste爱上海同城