On December, 2, 2015 Discovery Channel premiered Louis Psihoyos' new film, Racing Extinction, in 220 countries around the world. This riveting film covers the planet's sixth and currently ongoing mass extinction, named the Anthropocene Extinction, which is largely the result of mankind. Psihoyos details what many scientists and experts believe are the causes behind this vast dying off of the world's species – the international wildlife trade and the fossil fuel industry. His goal is to unveil the horrific events damaging our planet's health and wildlife, but boiled down to digestible bites to promote education and action.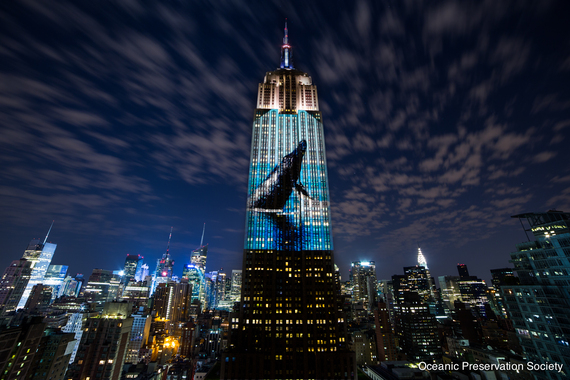 The Empire State Building was illuminated for three hours with video and photos of the world's endangered species in a collaborative effort of the Oceanic Preservation Society and the filmmakers of "Racing Extinction." Photo credit: Oceanic Preservation Society
Psihoyos won an Oscar for his 2009 film, The Cove, a feature-length documentary that goes undercover to expose the yearly killing of dolphins in Taiji, Japan. In order to document the dolphin hunt, they had to employ tactics and technology never before used in a documentary. The film sparked worldwide reaction, but most importantly, Taiji's annual cull of 23,000 dolphins is believed to have dropped to 6,000. This was the first film for Psihoyos' Oceanic Preservation Society, which he cofounded in 2005.
In their second film, Racing Extinction, special focus is brought to marine life again but on a wider scale, exposing China's shark fin and manta ray gill trade as well as the greater threat of oceanic acidification, the evil twin of climate change, contributed to by the burning of fossil fuels. In order to uncover the truth behind the wildlife trade, he and his team go undercover in life-threatening situations, using covert-operations and false identities to infiltrate an enormous Chinese seafood wholesaler and to bust a Los Angeles restaurant for illegally selling whale meat. In a more hopeful scene, we are shown how change can happen, when a small Indonesian village is taught how to capitalize on a more lucrative tourism-driven economy, as opposed to the devastating hunting of manta ray to supply China's appetite for animal parts that are falsely believed to have medicinal benefits.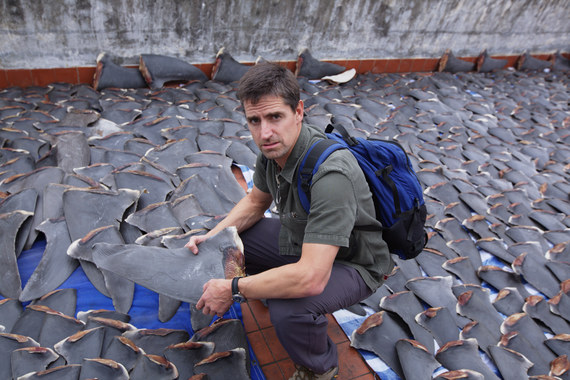 "Racing Extinction" team member Shawn Heinrichs stands above thousands of drying shark fins after infiltrating a Chinese seafood wholesaler market. Photo credit: Oceanic Preservation Society
In addition to the wildlife trade, manmade global warming from greenhouse gas emissions is contributing to a breakdown in the natural systems that support all life. Racing Extinction features interviews with prominent scientists like Dr. Stuart Pimm, a conservation ecologist at Duke University, warning us that half of all species will be extinct within 100 years if humanity does not change its ways. Wildlife simply cannot adapt to unprecedented changes in not only temperature,上海419交友网