When Environmental Protection Agency Administrator Gina McCarthy testified before a Senate committee this morning, she heard a lot about billboards.
Not just any billboard. She heard about one particular billboard in Olympia, Washington, that warns that "unregulated agriculture is putting our waterways at risk."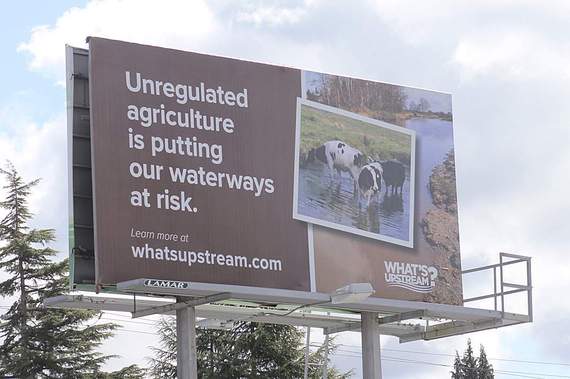 That particular billboard was financed by a coalition of environmental groups and Indian tribes that was funded, in part, by the EPA.
For some legislators, it's a "scandal" that a coalition receiving public funds would highlight the sad fact that farmers can pollute streams and get away with it. In the view of one senator, the billboard was a "malicious" attack on farmers, financed by EPA.
The real scandal is not the billboard or who paid for it, but that farm pollu爱上海419
Related Articles
The World Bank expects Latin America's power consumption to more than double between 2010 and 2030, and estimates that $430 billion of investment will be needed to meet that demand. An even more intimidating perspective comes from a recent World Energy Council report, which concludes that between now and 2050, "even in the best case, the growth of energy supply in [Latin America] will still be insufficient to meet the rising energy demand associated with economic growth."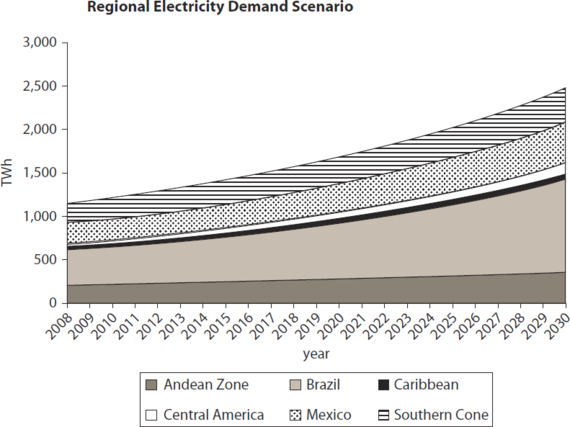 Latin America's power consumption is expected to nearly double by 2030. Source: "Meeting the Balance of Electricity Supply and Demand in Latin America and the Caribbean" (Figure ES2, World Bank, 2011)
What's causing these challenges for the region's energy sector and the electricity industry in particular? Demographic, technical, and environmental factors are all compounding in ways not seen before.
To tee up our May 21st webinar conversation about energy efficiency potential in Latin America (which you can sign up for here), consider these three big challenges for Latin America's electricity sector, and three big strategies for a successful future.
3 Big Challenges
1) A Rising Middle Class
The second decade of the 21st century signaled an historic shift in Latin American demographics: for the first time ever, more Latin Americans are living in the middle class than in poverty. And more are poised to join the ranks.
In Brazil, 37% of households will soon be middle-class or higher — up from 24% in the year 2000. This portends tens of millions new consumers moving into the middle class in Brazil alone between 2013 and 2爱上海同城交友论坛
In September, the Intergovernmental Panel on Climate Change published the first part of its review of the latest climate science, the AR5 report. What makes the IPCC unique is that it is not the voice of a single scientist, or even that of a group. It represents a combined view of in this case 209 lead authors and a further 600 contributing authors. That is 809 scientists from all around the world, calmly setting out the data as they observe it. They observe that since the 1950s, many of the changes to our climate are unprecedented over the previous decades and in some cases millennia. They observe that the atmosphere and ocean have warmed, the amounts of snow and ice have diminished, sea level has risen, and the concentrations of greenhouse gases have increased. They observe that each of the last three decades has been successively warmer at the Earth's surface than any preceding decade since 1850. In the Northern Hemisphere, 1983-2012 was likely the warmest 30-year period of the last 1400 years. Just after the report came out many business leaders urged immediate action from governments, businesses and society to reduce carbon emissions and increase resilience. They were right to do so.
Climate change is sometimes misunderstood as being about changes in the weather. In reality it is about changes in our very way of life. Climatic shifts on the scale suggested by our current emissions trajectory could wreak havoc with the global agricultural system. 2 degrees of average warming could still mean several times that in the world's temperate regions, where much of the world's food is grown. Changing patterns of rainfall could increase the volatility of global crop yields as more countries experience droughts and floods that can wipe out whole harvests in the blink of an eye. All this during a period in which we expect the world to welcome an additional 2 billion people. The arithmetic doesn't add up. The gains in prosperity that many in the world have enjoyed over the past century of growth and industrialization could be severely curtailed if we do not change path urgently towards a more sustainable future. That is to say nothing of the more devastating effects of rising sea levels on the millions of people who live in low lying coastal regions and the prospect of hundreds of millions of environmental refugees that may be created if we do not act now.
Governments' ambitions to limit warming to 2°C now appear increasingly more difficult: in 2012 PWC estimated that the required improvement in global carbon intensity to meet a 2°C warming target had risen to 5.1% a year from now to 2050 – a rate of decarbonization not achieved since World War Two. But every year of delay will increase emissions, lock the economy into a high carbon future and make future emissions reductions more costly. The world must therefore act in a swift and coordinated way to avoid the more pessimistic scenarios of 4°C or even 6 °C average warming above pre industrial levels.
But faced with all this we have no choice but to be optimistic. It is often when most challenged that the human species can surprise us most. As we head towards the UN climate negotiations (UNFCCC COP19) that kick off on 11 November in Warsaw we have to focus on three things; Understating what is possible, showing what is possible and doing what is possible.
Understanding what is possible
Understanding what is possible is simple. We already have a global process for world leaders to agree an international framework for addressing climate change. We have excellent leadership being shown by many nations around the world in their own domestic policy frameworks and their support for international action. Just in the last month I participated in the Global Green Growth Forum in Copenhagen, with prime ministers and cabinet secretaries from countries as diverse as Denmark, Ethiopia, France, Mexico and Indonesia working together, and with others to advance a greener path to growth. Just a week later, the launch of the Europ上海千花网论坛
by guest blogger Maya K. van Rossum, the Delaware Riverkeeper
Before our nation was aware of the hazards of fracking and shale gas development, the drilling industry was working quietly behind the scenes with Vice President Dick Cheney and others to craft a series of loopholes and pass the Energy Policy Act of 2005. The law would help the industry evade the oversight of U.S. federal environmental protection laws. The same kind of behind-the-scenes negotiations are happening today, only this time the focus is on undermining U.S. laws as well as those of 12 other nations–and this time we have a chance to stop them.
The gas drillers are hard at work behind the scenes crafting new protections for themselves, as are other major corporate interests. And when all is said and done, if we let them, bans on fracking, made in America labels, and protections against the importation of contaminated foods or products made abroad in violation of child labor laws are among the many protections and rights our communities and country now have that will fall to industry's demands.
What body of enforceable law could so solidly strip our communities from these vital protections? A new trade agreement called the Trans-Pacific Partnership (TPP) Agreement is being negotiated in secret between the U.S. and 12 nations from the Pacific Rim, including Australia, Brunei, Canada, Chile, Japan, Malaysia, Mexico, New Zealand, Peru, Singapore, and Vietnam. While China is not currently a party to this secret deal making, it's believed it will eventually join these and other countries in becoming a part of the pact.
The deal is so secret that not only is the public prohibited from reading its terms, but so too are the members of Congress. Thankfully, there have been some leaks to give us a glimpse behind the curtain (for instance, WikiLeaks secured and released the Intellectual Property Rights Chapter). It's reported that there are 29 chapters to this supposed trade agreement, many of which have nothing to do with regulating trade, but instead focus on limiting environmental, food safety, health, and other community protections. Overall, there's enough information available to know that the Trans-Pacific Partnership Trade Agreement (TPP) is a bad deal for the people of the United States and should be rejected by Congress when legislators finally have a chance to give it an up or down vote.
TPP is certain to include an Investor-State Dispute Resolution provision that will allow corporate entities and investors to bring claims for significant monetary payouts against any signatory nation they feel has interfered with their corporate/investor benefits under the treaty. That includes the U.S. So if there is a law that prevents a corporation from pursuing a toxic waste facility, dangerous development, water- and cyanide-intensive mining, or a fracking and drilling project, under the TPP that corporation/investor could bring a claim against the signatory nation before an international arbitration tribunal and have millions of dollars in damages leveled against it (for specific stories, go to: http://www.citizen.org/documents/fact-sheet-tpp-and-environment.pdf). Not only does this pose an unfair burden on a country whose government is trying to protect its residents, but it will also motivate that country to go after any state or municipality impeding the corporate project and force it to revoke its environmentally protective laws or regulations.
For instance, if a legally passed ban on fracking and shale gas development prevents a foreign corporation or investor from drilling in a New York community, that corporation can bring an Investor-State Dispute action against the United States and receive millions in damages, with the federal government likely to then bring a legal action against the New York community and force it to remove its protective ban.
This is happening already. Under another trade agreement with a similar provision, the North American Free Trade Agreement (NAFTA), a privat上海千花网