A special inspection of the Indian Point 2 nuclear reactor found that more than a quarter of the stainless steel bolts needed to channel cooling water through active nuclear fuel rods were broken, distorted or "missing", a finding that calls into question the effectiveness of the long term management of this and other aging power plants.
The inspection, which began March 7, concerned the 832 "baffle-former assembly bolts" which hold special metal plates around the 100-tons of uranium fuel within the reactor and channel cooling water to the bottom of the reactor and then up through center of the bundled 12-foot fuel rods to keep them from overheating. Entergy, which owns the twin Indian Point plants, stated in a March 29 report to the three judge panel of the Atomic Safety and Licensing Board (http://1.usa.gov/1Y1oqVO ) that 227 of the baffle-former bolts were degraded, broken, or "missing." That is an extraordinarily high failure rate of 27.2%.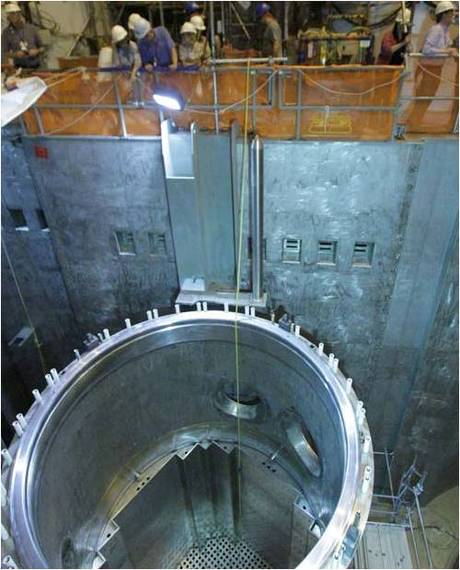 In its public statement, Entergy sought to minimize the problem by stating they inspected some 2000 bolts and 11% of these were degraded. But their legal filing was more specific. It was only the 832 bolts holding the baffles that had the greatest exposure and suffered the most damage. All 227 of the deteriorated bolts were in this category. Entergy spokesmen at Indian Point and at their corporate office declined to discuss the issue.
The fact that entire bolts or parts of them could not be initially located is considered a serious safety threat. That was the cause of the partial meltdown of the Fermi power reactor outside Detroit in August, 1966. In that case, bits of metal blocked the flow of coolant through two bundles of active fuel rods, and they overheated and melted.
Because of that risk Entergy, after discussions with officials at the Nuclear Regulatory Commission, is considering whether or not to shut Indian Point 3 and conduct a similar inspection now, rather than wait until a scheduled refueling outage in 2017. That would be a difficult fiscal pill for Entergy to swallow. The twin plants currently provide only 5% of the electricity used in New York City and neighboring Westchester County, primarily through its 560 megawatt contract with ConEd, the regional transm爱上海同城论坛