Related Articles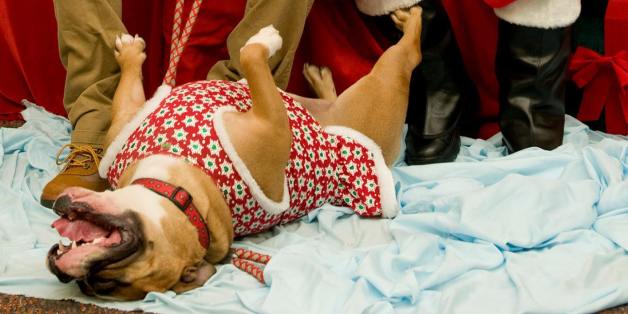 It was Lola's turn to sit on Santa's lap.
But what the pit bull/English boxer mix, who belongs to Miles Clark Gray of the Washington Animal Rescue League in D.C., really wanted for Christmas was on the floor — in the form of a great big belly rub.
Lucky for Lola, it's the season for giving!
And here are a whole bunch more pups who are (mostly) full of holiday cheer:
PHOTO GALLERY
Dogs (Mostly) In The Holiday Spirit
Wildlife officials are in the process of translocating 15 "rogue" elephants between protected breeding grounds in Kenya this week.
The animals are being moved from the Ol Pejeta Conservancy to Meru National Park after "terrorizing residents," damaging crops and destroying fences in the area, according to a report from The Star, a Kenyan newspaper. An official with the park said the relocation process is normal and carried out whenever populations surge to help control human-wildlife conflicts.
Unfortunately, elephants and their tusks are still prime targets for poachers, and more than 40,000 are killed every year, according to the Elephant Advocacy League. Fences and national park designations do little to deter heavily a千花网上海
After a half century of pioneering work by farmers and scientists, agroecology has finally penetrated international policy circles. This is due to agroecology's widespread s419交友