San上海 419论坛 发廊 Fermin, "Jackrabbit"
Related Articles
The just-announced decision by Siemens, a major player in the nuclear industry, to withdraw entirely from nuclear power is a significant declaration by a corporation about nuclear power and the world's potential energy future.
"The chapter is closed for us," Peter Loescher, chief executive of the Germany-based engineering group, said Sunday. "We are no longer going to participate in taking responsibility for building nuclear power stations or financing them."
The Siemens decision follows that of the German government to, with the disaster at the Fukushima Daiichi nuclear plant complex, abandon nuclear power — to close the nation's 17 nuclear plants, all of which were built by Siemens — and pursue instead safe, clean, renewable energy led by solar, wind and geothermal.
It comes after Loescher said, when a deal was struck in 2009 for a joint venture with Rosatom, Russia's state nuclear company, that Siemens would become a "market leader in nuclear energy" challenging General Electric, Westinghouse and Areva.
It follows Wall Street's now long-standing reluctance to finance the construction of new nuclear power plants. Thus, the financial basis for President Barack Obama's push for new nuclear power plants in the U.S. is billions of dollars in taxpayer-supported loan guarantees.
The U.S. government is also using the Tennessee Valley Authority, a federally-owned entity created during the New Deal, to be a leader in building new nuclear plants.
Although many people blame industry for the development of nuclear power, ever since it began in the 1950s, much of industry hasn't wanted to get involved. Governments, then and now, have been in the forefront of nuclear power. 爱上海论坛官网
Space Shuttle Endeavour lifted off for its final mission just before 9 a.m. ET on Monday.
An estimated crowd of 500,000 spectators and well-wi爱上海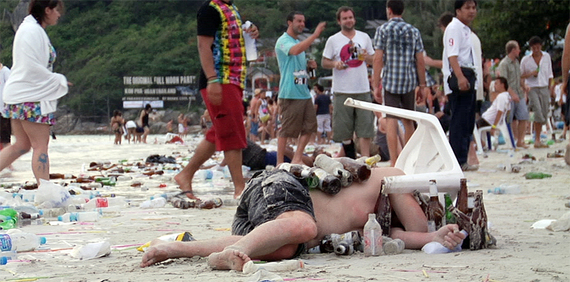 Above: The morning after a full moon party in Thailand. Provided by Pegi Vail.
Gringo Trails is anthropologist Pegi Vail's over 10-year effort to document the effects of travel on formerly "undiscovered" landscapes, namely in Thailand and Bolivia. Through compelling imagery and interviews with travelers, local residents, travel writers and guides, the documentary demonstrates how these locales have changed over time. In this two part Q&A series, I asked her a few questions about the film's findings, her thoughts on tourism's impact, and what we as travelers can do about it.
AA: One of the perspectives the documentary offers is the role of guidebooks is creating the "gringo trail." How can guidebooks be changed to avoid tourist pressure on the same location?
PV: The guidebooks make you feel random enough for most people to feel they are making the decisions themselves on where they are going. Yet [guidebooks] are the glue — the structure 上海龙凤贵族宝贝