Feb 4 (Reuters) – Eleven railway cars carrying ethanol fuel derailed on Wednesday in a remote location north of Dubuque, Iowa, and three of them caught on fire, Canadian Pacific (CP) railway said.
There were no injuries in the accident involving an eastbound 81-car freight train, said Jeremy Berry, spokesman for the railway.
A total of 12 railway cars derailed, and 11 of those were carrying ethanol, Canadian Pacific said in a satement.
The railway did not confirm reports in the Dubuque Telegraph Herald that three cars had fallen into the Mississippi River. The waterway is frozen or near-frozen and there is no river traffic in the area, an Army Corps of Engin爱上海论坛
Related Articles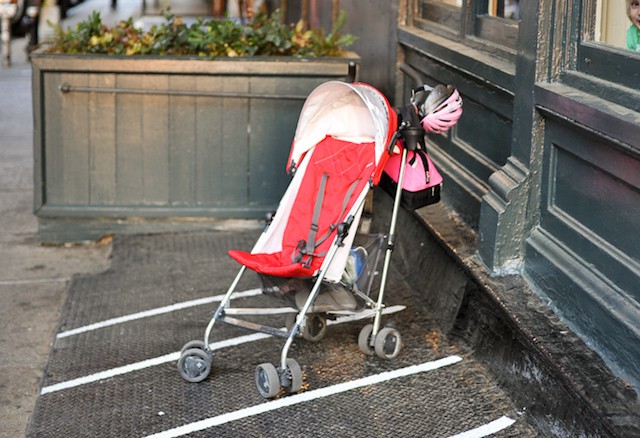 One afternoon late last summer, when Zelda was seven months old, we were on a long walk in our Brooklyn neighborhood. It was about the time when we usually ventured home to play in her room for a while before having dinner in the kitchen. But there was a breeze coming off the river and I didn't feel like going home just yet. The sun was not too hot, and there was a beautiful light shimmering over Greenpoint. Our courage was up. The restaurant at the end of our street had tables out on the sidewalk, and just one was occupied. "Let's have dinner here, Zelda," I said, locking the foot brake on her stroller. We sat down and lazily gazed at the menu while we waited for the high chair. I looked over at the only other patron: a woman, about my age, sitting alone, reading The New Yorker. Her hair looked freshly cut and styled. "Oh fuck, she's reading The New Yorker," I thought to myself, laughing. Just a woman alone at a sidewalk cafe reading a magazine. How luxurious. How common.
As I wrestled Zelda into her high chair, she started yelling. Not an angry yell, but one that was designed to get another's attention. With her strapped in, I sat back down and looked at her. She was smiling and calling to the woman reading alone. The woman was wearing sunglasses and so was I, but still, I thought I detected a hint of annoyance. Everything in that moment was laden with meaning for me: I felt judged because my baby was being annoying and loud. I looked at Zelda's little sundress and noticed that it had pink stains — from strawberries — down the front of it. I looked down at myself and saw that my jeans had a mysterious faint crust on the thighs from some forgotten moment of exasperation earlier when I'd simply "woosh," rubbed my hands down my legs as a form of cleaning or drying or Jesus, I don't know. Zelda yelled again. A happy yell. She waved frantically, waiting for a nod or a hint of recognition. She wasn't used to being ignored. We'd sat several tables away from the lone reader on purpose just to avoid this exact scenario. "Zelda," I said, "the lady is reading. Talk to me instead," I said to her, trying to strike a tonal balance of level-headedness and also scoffing "babies are so dumb"-ness. The lone reader sipped her glass of wine. Zelda's imploring got louder.
"This is a shitshow," I thought to myself, my confidence deflating in one moment. "This woman alone, she hates me and she hates my baby for ruining her quiet Tuesday afternoon. And I hate us too. We're annoying and gross and terrible." I didn't believe any of this but I felt it, completely.
I felt it as I heard a wailing baby from far off, a baby that wasn't mine, as I ordered my own glass of wine. "Wow, loud baby," I thought to myself as my own darling nightmare leaned over in her high chair to lick the table. I felt it still, moments later, as I saw a man in his thirties pushing an expensive, gigantic stroller down Kent Street, the wailing baby identified. "Poor guy," I thought, "his baby is worse off than mine." Zelda was still trying to lick the table. And I felt the feeling, still, though it began to thaw and melt away, as the woman alone reading her New Yorker removed her sunglasses and put them on the table, chugged the last of her wine, and stood up. I saw a stain on the thigh of her skinny jeans as the napkin dropped from her lap to the dirty sidewalk. She turned to the man in the stroller, who was now within earshot, baby still screaming bloody murder. "I guess he's not going to sleep," she said to him as he engaged the foot brake. "We should go then," she said, glancing at me and my now silent baby.
"How old is he?" I asked, sipping my glass of wine. "Nine weeks tomorrow," she said, smiling weakly. "How old is she?" She gestured to Zelda, who waved, smiling a drooly smile. "Just passed seven months" I smiled back. Little old nine-weeks was still wailing, dad desperately attempting to jam a pacifier into its mouth over and over. "Does it get easier?" he asked, looking up at me for the first time.
"Oh, we have our days," I said.
"This seems like one of the good ones," mom said, jamming her New Yorker into the stroller. "I guess so," I said, shrugging and smiling at my baby.

Before I had a baby, I disliked them intensely. I could get along with toddlers and children; we had things in common, like getting food on the front of our clothes during meals and barking back at the dog when she barks at us. Babies seemed annoying and loud and unmanageable.
I spent a lot of time in high school babysitting. I enjoyed it, but as I fumbled towards adulthood, babies became an aberration in my life. My only experience with them, for a very long time, was seeing them throw food onto the floors of the various restaurants that I worked in. Or hearing them scream on airplanes. One of the first times I travelled long distance with my husband, I remember how shocked he was when I craned my neck around, looking frantically for the source of the screaming. "Who brings a baby on a seven hour flight?" I screeched. "I hope someone died, at least." The sound of a baby, wailing uncontrollably, was worse than any sound imaginable, to me just then. "It's not the baby I'm upset about, it can't help it. It's the parents I'm angry 上海419龙凤交友网with!" The parents, I reasoned, were putting this baby — who obviously belonged at HOME — into situations where both it and I were unhappy. Shame on them.
If there is such a thing as eating one's words, allow me to feast on them now, barely chewing, gulping them down with a giant glass of pinot noir, since I now have a one year old baby. As soon as the ground thawed and we began to explore, around the time the baby was just a few months old, I decided to "take her out." In practice, this meant to stores and to restaurants. At first, it was a nightmare: her in her stroller, me choking down a salad at the neighborhood bistro, nervous on behalf of the other patrons, since she could and would lose it at any moment. But there's nothing a parent learns to ignore faster than the sound of a baby screaming, and I acknowledge this with some sense of the irony involved.
I learned some tricks. I learned to love noisy restaurants, because they hid the sounds of her loud, boisterous speaking voice. And once she was old enough to sit in a high chair, I only went to restaurants with high chairs. I had a list of them in my mind, and some of my formerly favorite haunts became absolutely off-limits. I went on off-peak hours — if the place opened at 10 for brunch, we'd be there waiting, the first people in the door. Dinner at 5PM? We're there. We went to the same places over and over, getting to know the staff, so that they (we imagined) welcomed us. I tried to take her out when she'd just woken up — she was happier then, and hungry.
She loves going out to eat. And she makes friends at nearly any establishment we go to. But I have no illusions about her manners. Now that she is fully onboard with eating solid food, she is quite messy. The floor beneath her high chair after a meal is a bloodbath, and she hasn't mastered the art of not pitching her bottle, or sippy cup, or bib, onto the floor whenever she has finished with it. At first, I spent a lot of time at the ends of meals on my hands and knees, wiping up piles of discarded food from the floors. Eventually, enough busboys and servers and restaurant managers discouraged me that I simply stopped trying. Now, at the end of a meal, after paying, I simply say to the server, "sorry about the mess! Her manners are a little lacking!" and hope that tipping thirty-five percent or more makes up for our daughter's obvious faults.
I am fairly certain it does. As does being simply apologetic for it. As does not tolerating a full on outburst in a public, controlled setting. Which we don't: once or twice, Zelda has decided that she is just not in the mood for brunch. Fair enough: off we go, out the door. I've left my husband several times to finish his food alone and pick up the check. I know my daughter's limits, and I know the limits of what I, in my former, babyless days, would find tolerable. I can tell when the cute has worn off.
That's not to say she isn't annoying. And here is where I'll eat my words: She is annoying. She is loud and messy and gross. She is a baby, and lacks any semblance of real-world human skills. I accept this as a harsh reality, spending, as I do, twenty-four hours a day in her company. I don't treasure her running the butter-soaked palm of her hand down the side of my face, and shirt, and crotch, any more than anyone else would. I try to be realistic about her aptitude for the outside world, and it's a pretty low bar some days.

As Zelda and I walked home that day, I had a stunning though obvious realization: we were all babies once. I didn't spring into life, fully grown, an Athena in our midst. I once was an awful member of society. I once groped my mother in public and yelled for strangers' attentions. I once hated other people's babies, and, truth be told, I can still get a little judgy at the sight of a particularly awful baby specimen. But, now that I'm a parent of an actual, tiny, barbaric human, I see that it's my duty to take her out, daily, into society, in order to cull her of her worst impulses. To teach her that sometimes the people sitting just one airplane seat over don't want to talk, or that the lady reading her New Yorker five feet away isn't her best friend. This is the social contract: we must raise our young to be human people with manners and dignity. And you, the adult humans of the world, must tolerate us while we embark on our excursion.
I apologize in advance: you are part of the journey. I promise, she will be better for it. Thank you for your patience.
The Parent Rap is an endearing column about the fucked up and cruel world of parenting
For around a year now, Raul Valda has been taking beautiful photos of Bolivian street dogs.
He started the project in response to a rough period of his own: About 10 years ago, Valda, who lives in La Paz, was suffering his "first bipolarity crisis," he says. "More than pills or therapy, my dogs — Amaru and Wara — got me through it."
In 2013, after becoming a full time photographer and opening a studio, Valda thought it right to pay tribute to the canines who have helped him so much with a documentary project involving stray dogs in his hometown.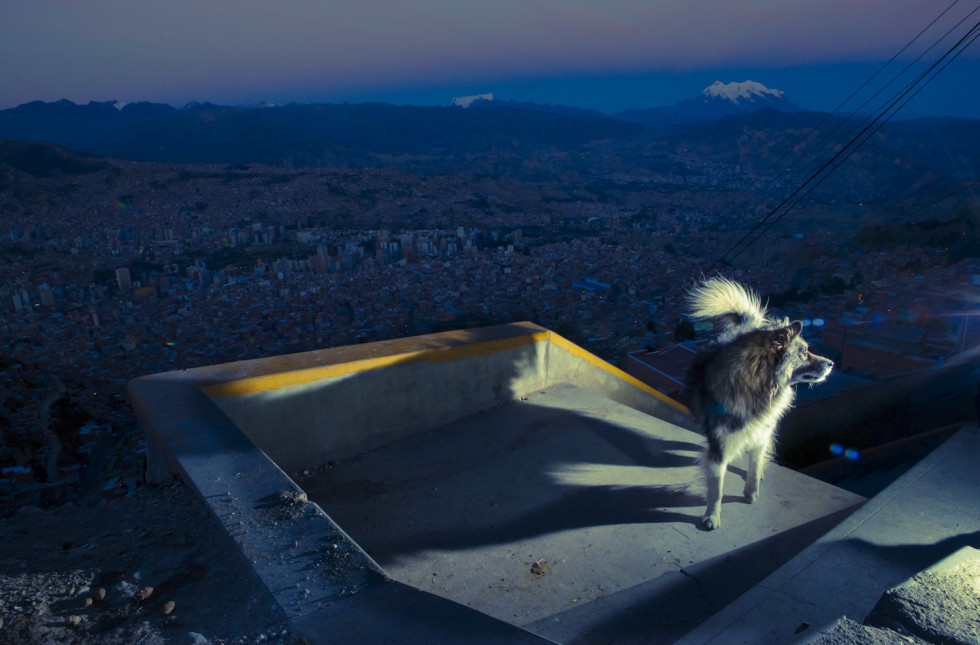 "The first photo was taken in April 2013, in El Alto, one the highest cities in the world at 13,620 feet," Valda says. "As I took the pictures, I was overwhelmed by the number of dogs in the streets and their living conditions."
He eventually decided to turn the series into a book "as an homage."
Valda — whose images have been selected for a show of emerging Bolivian photographers — recently spoke with HuffPost about that homage. Both lovely and sad, it shows scenes of dogs doing things like eating from dumpsters, lit up and shot like fashion spreads.
The Huffington Post: Are there a lot of street dogs in Bolivia?
Raul Valda: There are different estimates, but according to the Ministry of Health, there are over 390,000 dogs in [La Paz and El Alto], of which 40 percent are street dogs with owners and two percent are considered 'stray dogs'. They also claim the total number of dogs in the whole country grows 20 percent every year. From what I have seen, I'd say the statistics underestimate the number of stray dogs.
The situation is special: Many people leave their dogs in the street during the day and let them sleep in the garden or patio at night. Others just feed them and let their pets in the street day and night. Many buy puppies and, as they grow, abandon them. And of course, other dogs are born and die in the streets.
Luckily, many foundations to help these animals have been recently created.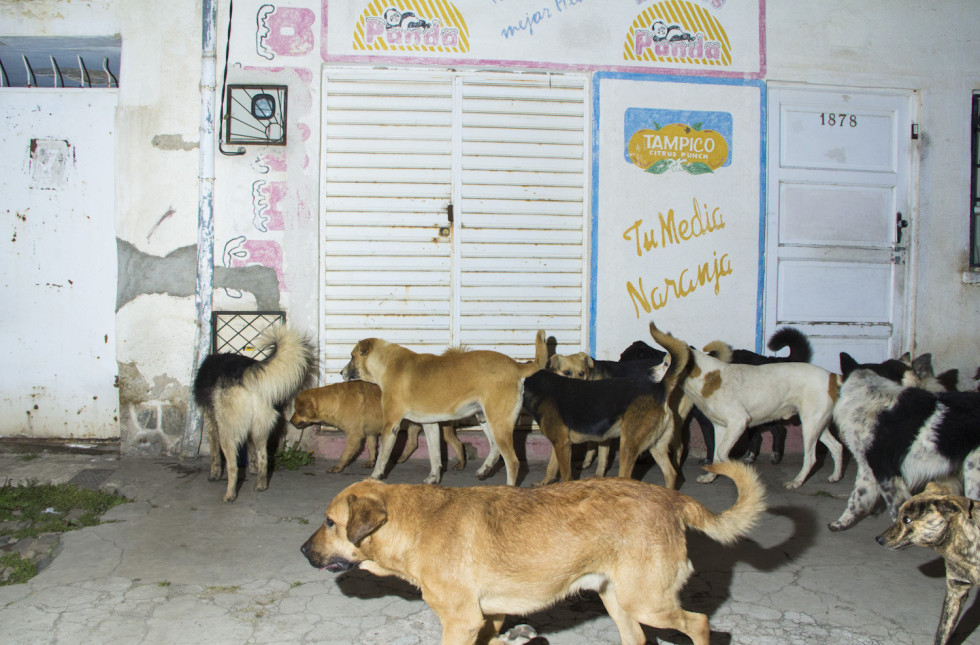 What's the attitude toward the dogs? Are they loved? Treated well? Treated poorly?
Again the situation is complex. I'm sure many pet owners who leave them in the street love their dogs, but simply prefer to leave them "free" while they work. The problem, from my point of view, is that many of these animals progressively become stray, get sick or have puppies that are usually killed or abandoned. The cold climate and extreme geography of these cities don't help.
And the attitude towards dogs that look sick or wild is usually very negative. According to a study from last year, 59 percent of the population in major cities thinks "dangerous dogs" should be eliminated.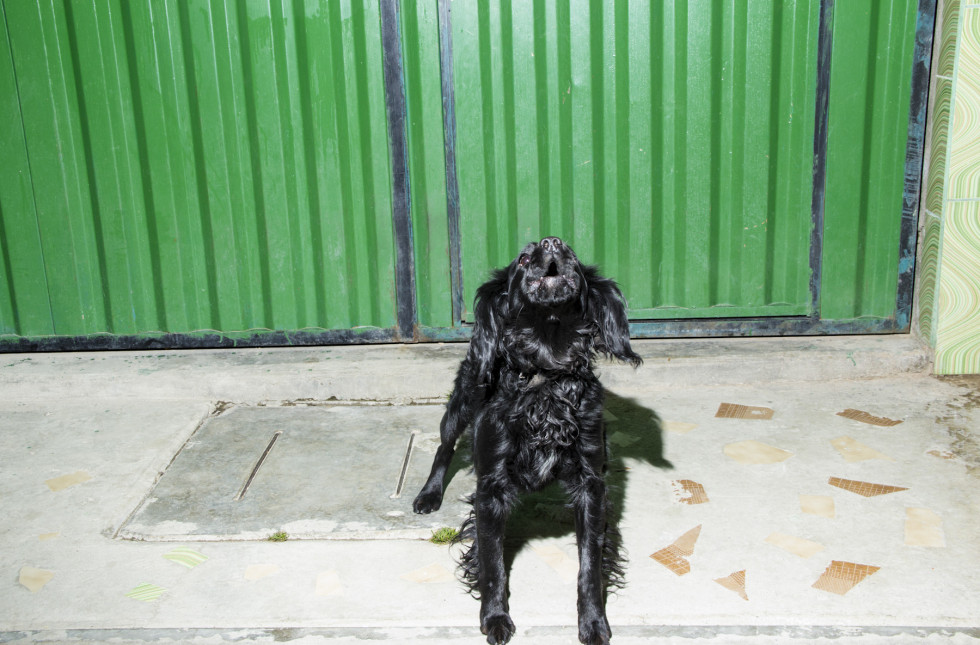 How do you take the photos? Do you use studio lights? What other equipment do you use?
I take my studio lights onto the streets, but I never use more than two. Some photos were planned — li上海419休闲娱乐网
People love puppies. But all too often — and in so many cruel ways — these animals are betrayed by the very breeders who raise them. These breeding facilities are called puppy mills, where female breeding dogs are kept in close confinement and forced to bear litter after litter without any break for their bodies to recover. Once they can no longer produce puppies, these mothers are often killed. Adult breeding dogs and puppies are typically kept in cages with wire flooring that can injure their paws and legs.
Most pet store puppies come from puppy mills, though families who eventually buy these puppies in pet stores don't know their purchase feeds the profit-making machine that keeps puppy mills in business.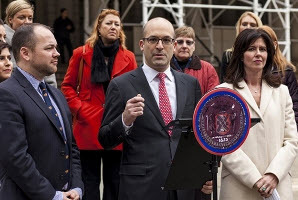 That's why we stood proudly with the New York City Council last week as they admirably addressed this issue head-on. By an overwhelming margin, the Council passed groundbreaking legislation — Intro. 55-A, Intro. 136-A and Intro. 146-A — that will put effective and enforceable pressure on commercial breeders to substantially improve the lives of thousands of dogs currently languishing in puppy mills in this country.
Spearheaded by Councilmembers Elizabeth Crowley and Corey Johnson, these measures will prohibit city pet shops from 上海千花坊论坛