The World Bank expects Latin America's power consumption to more than double between 2010 and 2030, and estimates that $430 billion of investment will be needed to meet that demand. An even more intimidating perspective comes from a recent World Energy Council report, which concludes that between now and 2050, "even in the best case, the growth of energy supply in [Latin America] will still be insufficient to meet the rising energy demand associated with economic growth."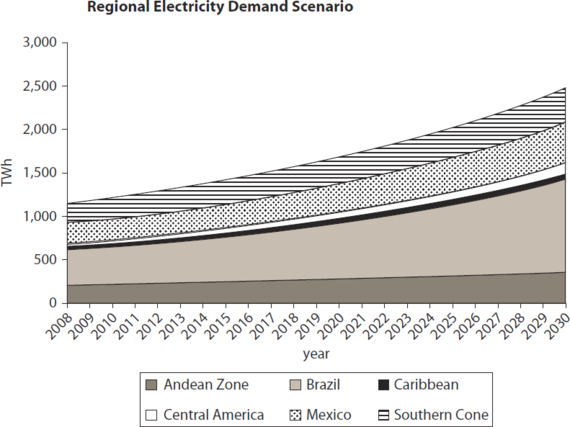 Latin America's power consumption is expected to nearly double by 2030. Source: "Meeting the Balance of Electricity Supply and Demand in Latin America and the Caribbean" (Figure ES2, World Bank, 2011)
What's causing these challenges for the region's energy sector and the electricity industry in particular? Demographic, technical, and environmental factors are all compounding in ways not seen before.
To tee up our May 21st webinar conversation about energy efficiency potential in Latin America (which you can sign up for here), consider these three big challenges for Latin America's electricity sector, and three big strategies for a successful future.
3 Big Challenges
1) A Rising Middle Class
The second decade of the 21st century signaled an historic shift in Latin American demographics: for the first time ever, more Latin Americans are living in the middle class than in poverty. And more are poised to join the ranks.
In Brazil, 37% of households will soon be middle-class or higher — up from 24% in the year 2000. This portends tens of millions new consumers moving into the middle class in Brazil alone between 2013 and 2爱上海同城交友论坛