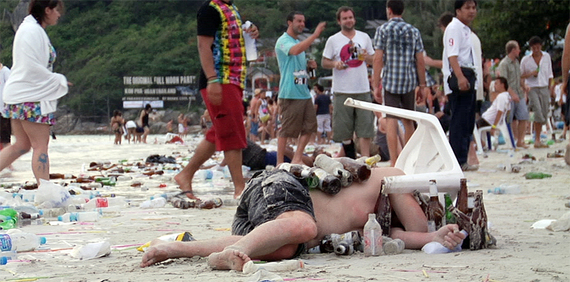 Above: The morning after a full moon party in Thailand. Provided by Pegi Vail.
Gringo Trails is anthropologist Pegi Vail's over 10-year effort to document the effects of travel on formerly "undiscovered" landscapes, namely in Thailand and Bolivia. Through compelling imagery and interviews with travelers, local residents, travel writers and guides, the documentary demonstrates how these locales have changed over time. In this two part Q&A series, I asked her a few questions about the film's findings, her thoughts on tourism's impact, and what we as travelers can do about it.
AA: One of the perspectives the documentary offers is the role of guidebooks is creating the "gringo trail." How can guidebooks be changed to avoid tourist pressure on the same location?
PV: The guidebooks make you feel random enough for most people to feel they are making the decisions themselves on where they are going. Yet [guidebooks] are the glue — the structure 爱上海贵族宝贝